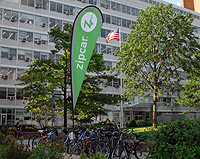 Do you ever need a car but don't own one?
The Einstein campus is a parking site for Zipcar, a service that rents cars to members at low hourly and daily rates. It's one way that Einstein offers members of its community an alternative to having one's own car on campus.
Zipcar offers occasional drivers a viable alternative to parking a car full time on campus. One Zipcar can replace as many as fifteen privately owned vehicles, leading to less traffic and therefore less air pollution in our community. It's a way for us to be green, while helping to address the high cost of gas, as well as the scarcity of parking on campus and in the area.
The cars are available to run errands, plan a day trip or weekend adventure, or for those who may need a car at a moment's notice for just about anything.
Because Einstein is a Zipcar site, members of the Einstein community can enroll in an annual membership at a reduced rate of just $15 per year. The hourly rate for car rentals includes gas, insurance and 180 miles per day. There is no application fee.
Reservations can be made online or on a mobile device, 24 hours a day, 7 days a week.
To learn more and to sign up for Zipcar membership, visit www.zipcar.com/alberteinstein